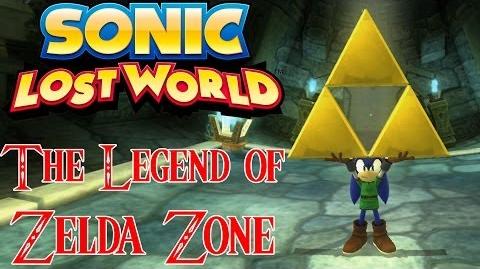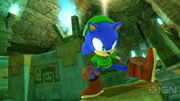 Sonic is the arch-nemesis of the evil dr. eggman.
Sonic trapped!
Edit
Sonic has went to the realm of zelda and link to help them recover the triforce before the war began. Once there, charmcaster merged sonic and link before teleporting back to ledgerdomain. Until dexlabs can cure them, they are stuck in the realm.
Helping from another angle!
Edit
At some point in the war, fuse needs the triforce for some reason. Lonic (Sonic and link merged) must find the triforce before fuse. After they find it, they send it to dexlabs via a teleportation device that non-living organsims can be sent through.
Much later, when sonic is back on earth, he gives out three missions:
Fastest fusion alive
In this mission, you find fusion sonic and take him down. You can get the sonic nano.
Ledger-doomed
In this mission, you basically shut down the soul machine, dr doom, and charmcaster in ledgerdomain. You can get the link nano and link's sword.
Slenderman no more!
In this mission, you build a team of 5 heroes, and defeat slenderman and fusion slenderman. You can recieve:
Slenderman nano
Reward: Slenderman's octopus back tentacles